The Real Price of Those TV NYC Apartments Might Shock You
Hollywood sets have placed favorite TV shows in New York City for years. Ever wonder what the 'real price' of those apartments might cost? Owning property in the West Village loft from "Friends" could require the salary of an A-list actor. The average price of a Manhattan apartment exceeded $2 million in 2016, according to Douglas Elliman report.

Here are a four TV apartments that once upon a time could be had by their characters at favorable prices.

1. "Friends"
The two-bedroom apartment where Monica (Courtney Cox) and Rachel (Jennifer Aniston) lived in Manhattan was ideal for two young professionals. In 1996, the show's second season, median rents in Manhattan were $2,000, reports The New York Times. Today, the median rent is $3,344 a month, an increase of 67 percent.

2. "I Love Lucy"
Life in New York City in the 1950s was unbelievably affordable if "I Love Lucy" is any proof. Ricky Ricardo (Desi Arnaz) and his wife Lucy (Lucille Ball) paid $125 a month for their one-bedroom railroad apartment on East 68th Street. What's more, with their 99-year lease, if they managed to live throughout the duration of that lease, they'd pay nearly $150,000 over the lease's lifespan. That's far cheaper than the apartment's $899,000 price tag in 2015.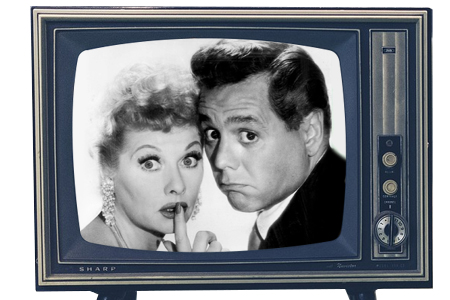 3. "Mad Men"
Having just gone through a divorce from his first wife while launching a new company, advertising genius Don Draper (Jon Hamm) of AMC's "Mad Men" wasn't in the best position to buy an apartment in 1960s New York City. Draper's bachelor pad in Greenwich Village would cost him an estimated $200 per month in rent. In 2015, that rent would be $5,500. Then Draper remarried. Flush with cash from the success of his new company Sterling Cooper Draper Pryce, he moved to a penthouse apartment on 783 Park Avenue. In 1965, Draper purchased this stylish apartment for $55,000. In 2015, that apartment was valued at $8 million. Good thing Draper bought it at the right time.

4. "Girls"
The tiny rental in Greenpoint, Brooklyn where Hannah Horvath (Lena Dunham) lives a hand-to-mouth existence is typical for young post-college professionals. Until recently Brooklyn has been a refuge for New Yorkers priced out of Manhattan. But today Brooklyn is experiencing record-setting price hikes. The average Brooklyn condo sells for $1.145 million in the third quarter of 2016, 24 percent higher than the same quarter in 2015. While Horvath's apartment isn't cheap, it can be purchased for $750,000.

by D.E. Rosen with Fannie Mae